Itaoeste no Brasil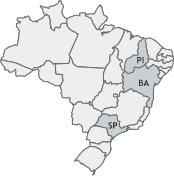 Unprecedented discovery in the state of Bahia
The city of Barreiras in the state of Bahia is the only city in Brazil that can boast a rare and high-value metal, thallium. This metal was discovered by the São Paulo based company Itaoeste, whose majority partner is businessman Olacyr de Moraes.
In addition to its rarity, here in Bahia the metal was found in association with manganese and cobalt "at least in a continental geological environment, which makes the discovery unprecedented in the state of Bahia," according to Itaoeste's press relations.
Contrasts
For those who have never heard of thallium, it is employed in high-technology solutions, chiefly in health and energy.
This metal is employed in cardiology image exams and as a conductor for transmitting electricity. Thallium is able to convert waste heat into usable electricity.
Thermoelectric materials have this capacity, "which gives way to new prospects. In addition, new devices may be developed, such as refrigerators with no moving parts," informed the company's press relations.
In addition to mining, Itaoeste which was organized in 2002 controls ventures in agribusiness and service provision in business, and is engaged in activities such as construction of railways, sugar an ethanol mills, banks, the financial market, and energy, among others.
Thallium is its flagship in Bahia, but Itaoeste is also present in other states with manganese, quartz, limestone, bauxite, kaolin, feldspar, attapulgite, and clay, among others.
Hence, the company is engaged in a number of activities, such as for example: clay (manufacture of ceramics, sanitary ware, electrical isolators); attapulgite (manufacture of cosmetics, paint thickeners); bauxite (chemical and metallurgical abrasives); limestone (production of cement and lime, chalk, paper); kaolin (ceramics and rubber industries); feldspar (manufacture of glass, electrical isolators); manganese (manufacture of steel, metallic alloys); and quartz / quartzite (foundry molds, optic fibers, glass and varnish).
Link: http://www.sicm.ba.gov.br/Noticia/27956/Ineditismo-na-descoberta-em-territorio-baiano-.aspx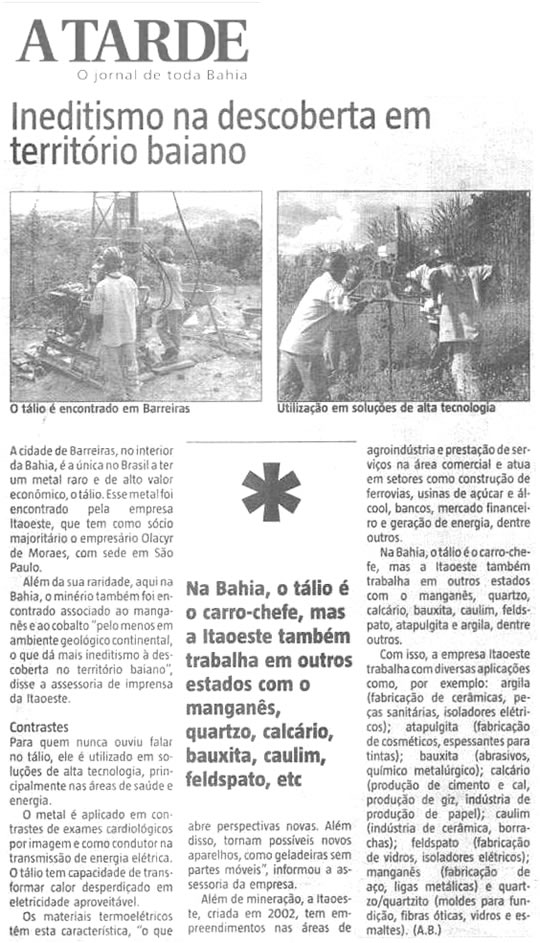 ITAOESTE Serviços e Participações
Rua Fidêncio Ramos, 160 – 2º andar – sala 211 – CEP: 04551-010 - Vila Olímpia – São Paulo - SP
Tel: (11) 3168-3705 | contato@itaoeste.com.br